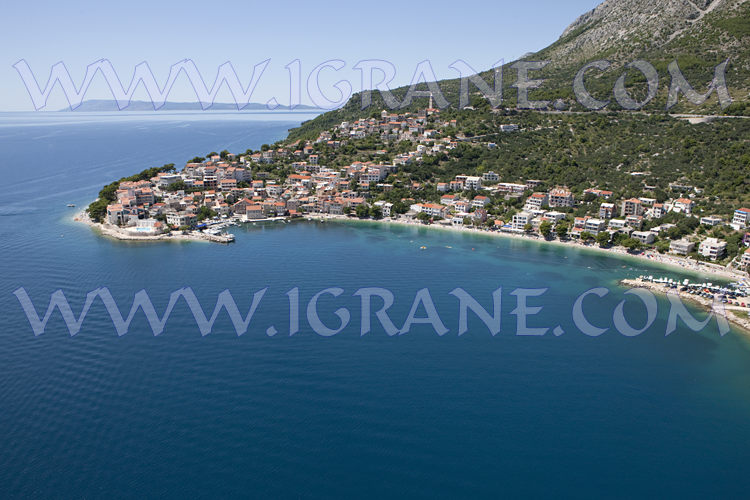 About Igrane
Speaking of geografic location we can say that Igrane has the ideal position. Above Igrane there is the mountain Biokovo, and the place itself is located very close to the sea.
Mild mediterian climat as well as vegetation, and several big beaches representing important conditions for tourism in ecological emviermont. Beautiful nature, clean air, and the sea together with many sunny days make possible for guests to spend their hollidays by relaxing and resting.
Traffic communication with dalmatian cities is very good. The distance from Igrane to Makarska is only 15 KM; from Split 77 KM; from Dubrovnik 140 KM; from Međugorje 80 KM. The distance from Igrane to island of Hvar is only 40 min driving by boat. Peninsula Pelješac is also near, it takes 1 hour by boat to get there. The islands of Korčula and Brač are between 2 and 3 hours away from Igrane, if you go directly from Igrane. Only 15 minutes away from Igrane there is the village of Drvenik which is connected with the islands of Hvar and Korčula by ferryboat. If you want to visit the island of Brač, there is a ferryboat which goes from Makarska.
Accommodation capacities consists of Hotel "Punta", and private rooms and appartments.
Private accommodation can offer you more then 1000 beds, mostly in appartments. Most of it are categorizied with 3 star. The great deal of private houses are situated very close to the beach, and some of them are only 30 to 50 meters away from it.
In Igrane you can find few restaurants which offer mostly Dalmatian cuisine with lots of fish and vegetables. There are also cafe bars where you can have esspreso, cold drings, and ice-cream.
There are three stores with various groceries in igrane as well as a souvenir shop, exchange office, and post office.
If you want to have active holidays you can rent a water scooter, or choose between various water sports. There is a diving school in Igrane also. You can play mini-golf or table tennis too. Tennis courts you can find only 4 km away from Igrane, in autocamp "Dole".
You can have unforgetable walks in nature, or if you prefer you can have jogging, or ride the bicycle.